Being a small business owner can be very intimidating and often juggling with multiple tasks at once.
Thankfully, there are tons of digital tools you could use to help with ramping up productivity and of course, save time!
To save you the hassle in searching for the best tools online, I have compiled 10 of the latest yet useful tools for your small business's success.
1. Canva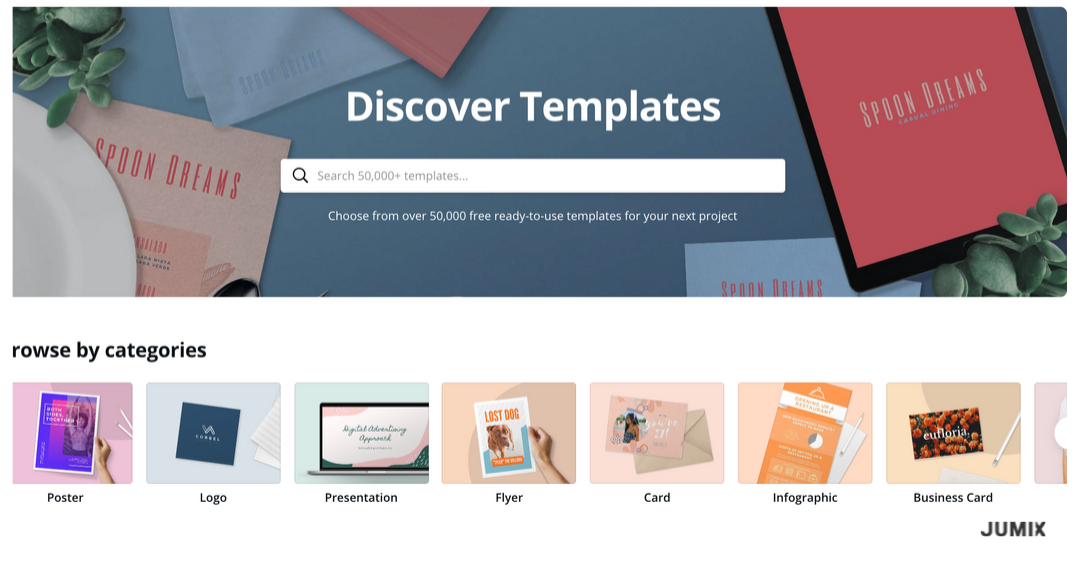 If you are not a great designer, meet Canva. This is one of my favourite tools when it comes to designing simple banners or flyers. There are so many pre-formatted templates to create whatever design you want.
Resume, Banners, Postcards, Name cards, Posters, Logo, Brochure and more. While you think it will turn out to be some amateur work, wait until you get your hands on.
You won't believe how this easy to use drag-and-drop tool will make you look like a seasoned designer!
What's more? It is absolutely Free and easy!
2. Evernote
Your plans, thoughts, and ideas are always wandering and often got lost? I swear 9 out of 10 small business owners uses Evernote for keeping track of what is on their mind.
The app's free plan allows you to clip content from websites, create & organize your own notes, and share with co-workers.
The best thing about Evernote is that everything you put on the app, it will be automatically saved online and synced across all your digital devices.
Then, you can access your data through a web browser anytime, anywhere.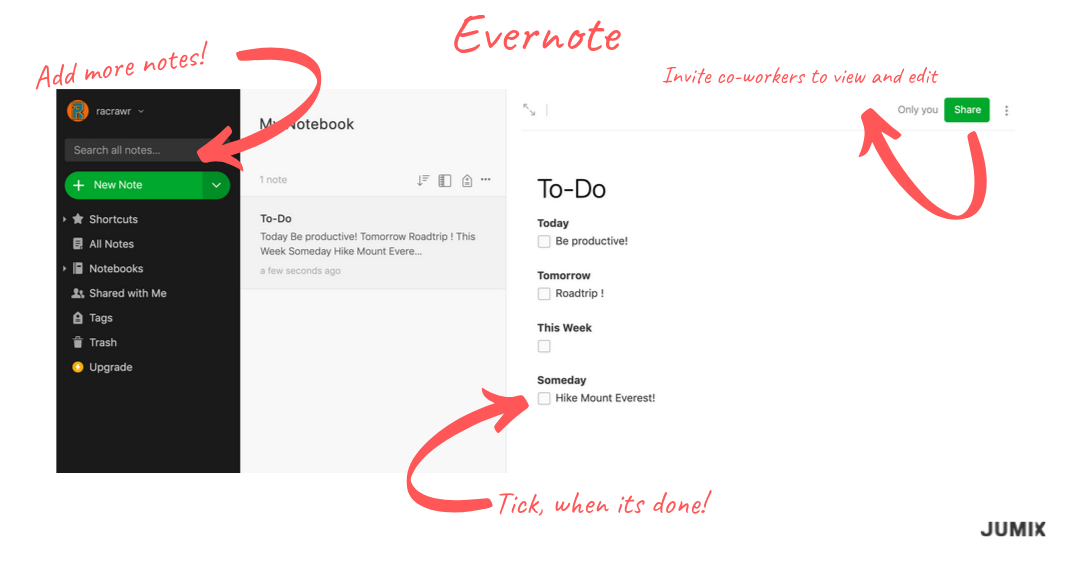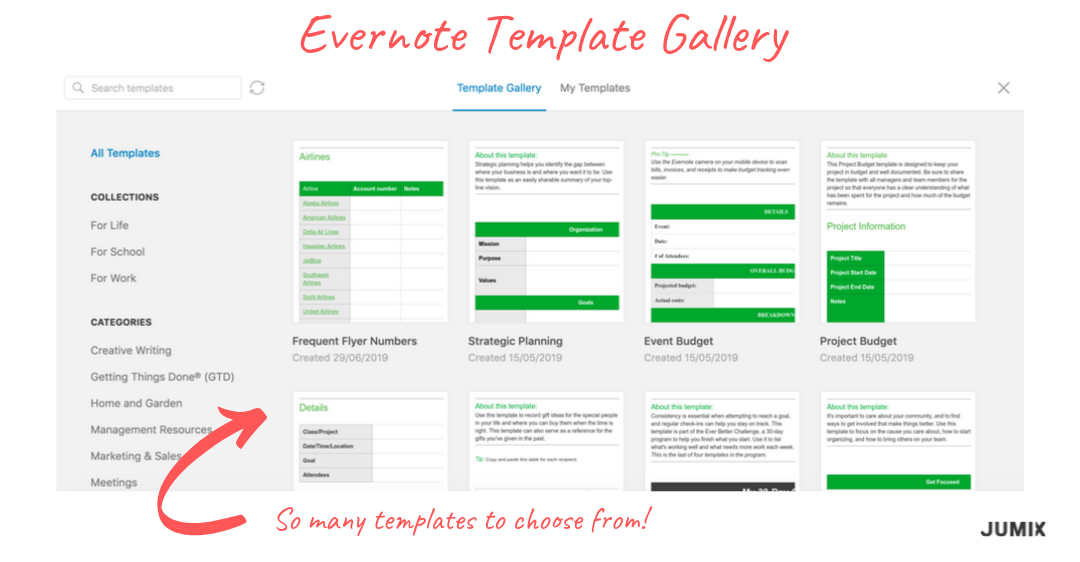 With Evernote, there is no need to worry whether you need to re-THINK what you have thought.
3. Flickr
Beautiful images are vital to grab target audiences' attention. Having said that, I don't mean you have to be a professional photographer.
Why bother taking pictures yourself when you can use Flickr?
The site has a great variety of images available for free with or without attribution.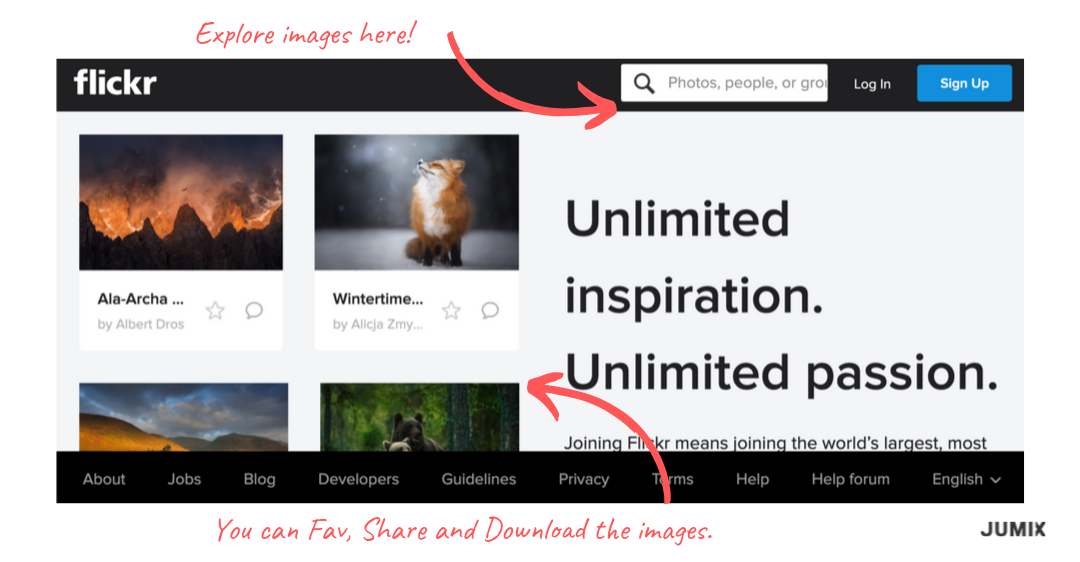 4. Trello
Trello is said to be one of the top team and task management platforms ever made.
With Trello, small business owners are able to create multiple boards and cards, set due dates, reminders, add notes and images etc.
It is a simple yet straightforward tool for businesses to keep track of tasks among co-workers.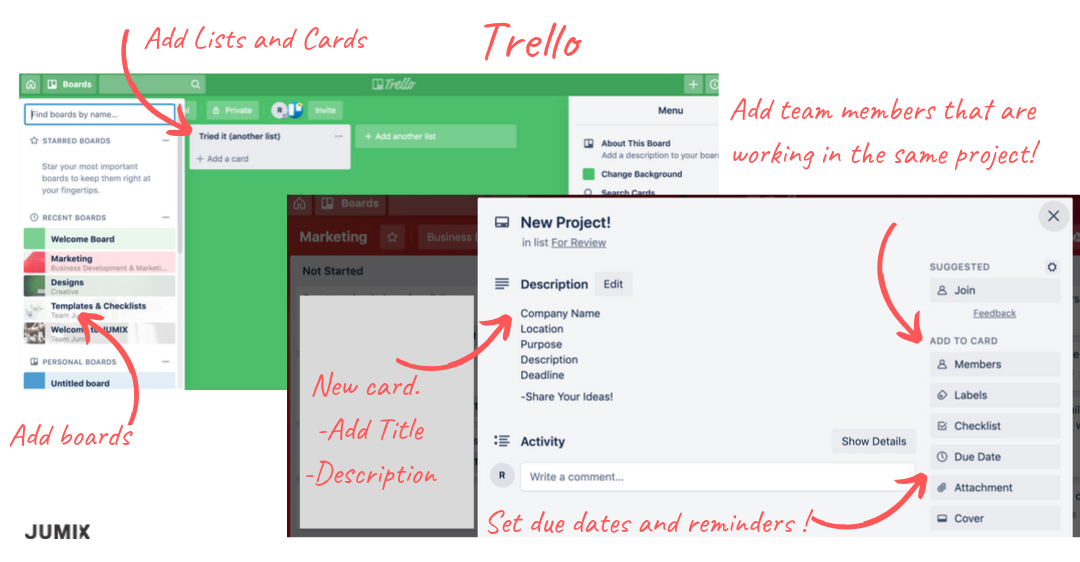 5. Slack
Effective communication in the workplace can boost operations. Compared to email, text messages, social media accounts and other chat tools, Slack is one of the best communication software every small business owner should use for growing their business.
It is a real-time messaging app, can get up to 200 notifications at once.
Besides, all missing messages are directed at you and it can also do file-sharing and phone calls among co-workers.
6. Google Drive/ Google Docs
Every business owner needs a file storage app that all members of the team can easily access to share work documents. Google Drive has got it all.
Having similar benefits as Microsoft Office, but on top of that, you get to access from anywhere as long as there is internet.
This cloud-based office suite comes with an inbuilt word processor (Google docs), a spreadsheet (Google sheets), a form (Google forms) and also a presentation maker (Google slides).
With Google Drive, small business owners can now share documents among co-workers, edit and upload report for clients instantly. Oh, Google Drive, what would we do without you?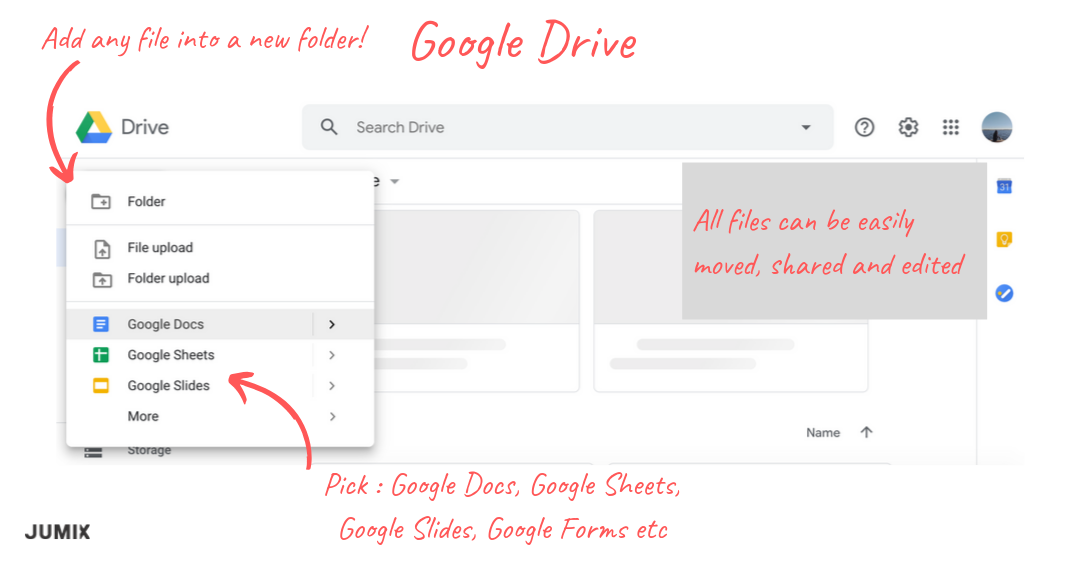 7. Google Calendar
With so many things on hand, a calendar app would be a great tool to help keep your day flowing smoothly. As a big fan of Google, the Google Calendar is by far the best.
Why? Because Google Calendar allows you to connect with other business apps and services that have calendars as part of their features such as Trello.
Besides, it also integrates with Gmail where you can create a calendar event right from the mail. So, there won't be any missed appointments or deadlines and always keeping you on track.
There is one more point to highlight, Google Calendar allows you to use different colors to label an event, which makes it easy to see and focus on a certain category of events.
8. MailChimp
For small business owners that are new, it is important to reach out and keep in touch with your customers and subscribers.
MailChimp will be a trusted choice. Its user-friendly interface helps you create beautiful and top-quality newsletter to be sent in a bulk.
Best of all, you can create a free account and send up to 12,000 emails to 2,000 subscribers per month!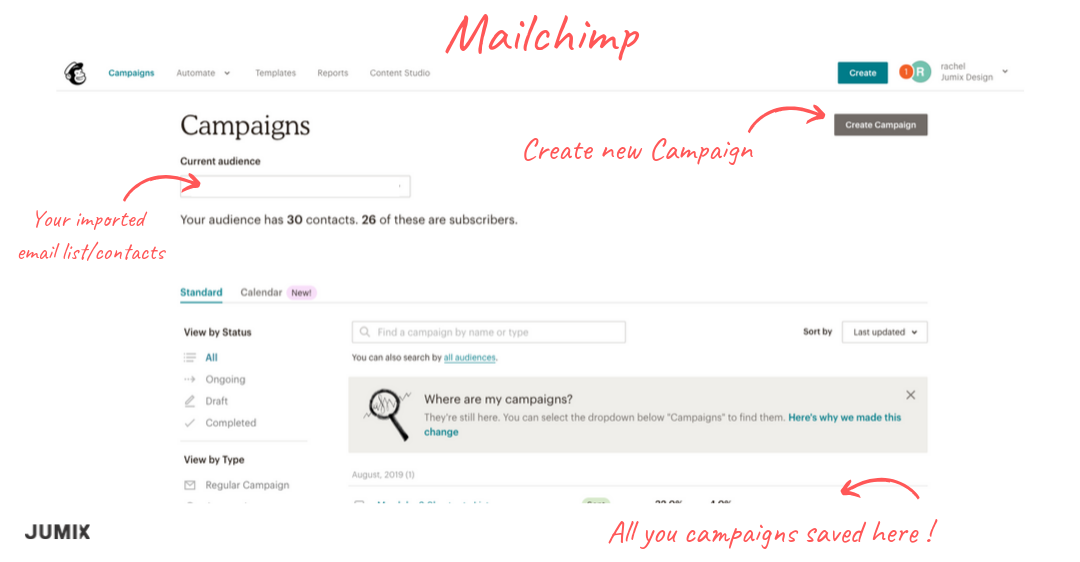 9. Snapseed
Well, there are times when there is a need to make certain photos a little more exciting than the original for social media postings and if you happened to be lack of talent in Adobe Photoshop, try Snapseed.
Snapseed is also a Google-owned app. The user interface on Snapseed is undeniably easy to use and navigate.
With almost 30 tools available, it is more than enough to make your photos from boring to magnificent.
10. Spotify
A little music in the workplace could liven up and create a more collaborative work environment. Some may think it is an annoying distraction, but the truth is, choosing the right kind of music is important to help give a boost of productivity at work.
Over a million of songs available, Spotify can be streamed from computer, tablets and smartphones.
Spotify also allows you to create different playlists on your account such as 'Collaborative Playlist' where other users (co-workers) can add, play or remove songs.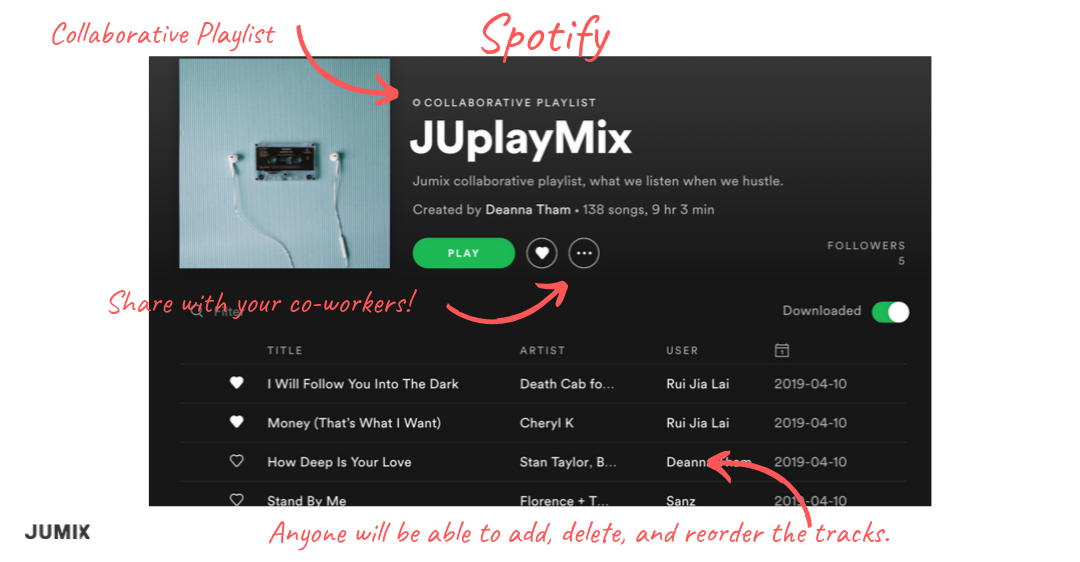 To conclude, growing your business is a massive task that requires a lot of time, effort, energy, patience and most of all dedication.
Hopefully with these tools, you are able to mitigate operational expenses, maximize productivity and of course, increase sales revenue!
Also, if you are still stuck at designing a website, you can contact us to help you with the heavy lifting!
The following two tabs change content below.

Sanz Teoh
Sanz Teoh is the founder and CEO of Jumix. With more than 10 years of experience in digital marketing, he has helped countless of businesses on their branding, digital marketing and web designing needs.

Latest posts by Sanz Teoh (see all)