It's a rewarding journey ahead, filled with a fun and dynamic environment.

Experience working in a dynamic environment where your unconventional ideas are conventional here.

We're always on the lookout for talented like-minded individuals where we can share our aspirations.
Join our team and be one of the leaders
who will shape the future of online business.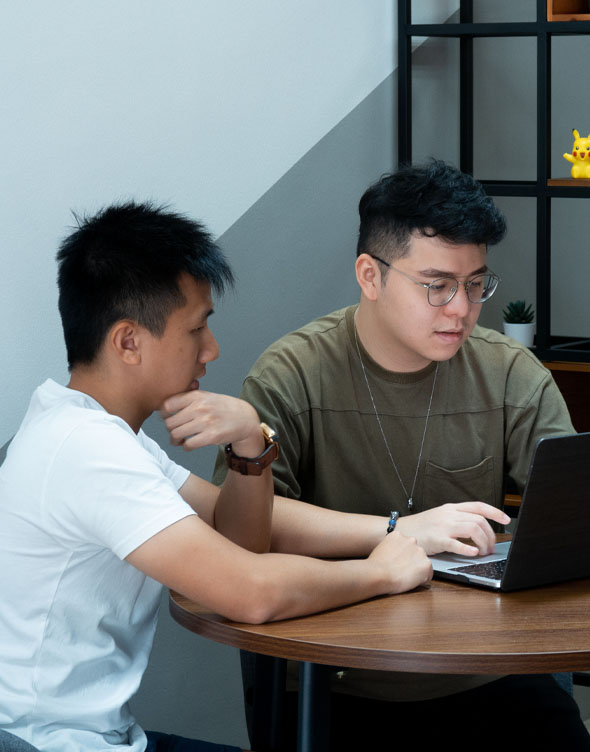 Open Positions
Work in a startup environment with a rewarding career ahead of you!
Internship for
Mass Communication
Students

REQUIREMENT
Required skill(s): Photography, Videography,Video Editing, Internet Savvy.
Preferred skill(s): Cinematography, Scripting, Directing
Required language(s): Chinese, English
3 to 6 months internship program.
RESPONSIBILITY
Shooting videos for social media usage (editorial, commentary, tutorials, behind the scenes, story).
Contributing and developing ideas for videos.
Post editing videos into different formats for different platforms.
Interns must be willing to learn and explore different skills and opportunities.
Chance to work closely with CEO and pick up entrepreneurship, business and communications skills.
Start-up environment allows you to learn a wide set of skills.
Web Developer /
Programmer

REQUIREMENT
At least 1-2-year experience in relevant area of work. Effectively manage multiple tasks of varying complexities, meet deadlines and work well under pressure.
Fast, adaptable and proactive to better improve the aesthetics of front and back end spontaneously.
Good experience in HTML5, general CMS (WordPress, Opencart etc.) and web optimization.
Proficient with PHP, MySQL, JavaScript, Ajax, jQuery.
Attuned to the trending web technologies.
Familiarity with front-end technologies such as Javascript MVC frameworks (e.g., Angular JS, Backbone, etc.), HTML5/CSS and building mobile, responsive/adaptive applications (e.g., Phonegap, Python, Objective-C, etc.) is a plus.
RESPONSIBILITY
Setup web application according to customer requirement
Providing customer service and support after software implementation.
Write, build and integrate related APIs.
Develop custom made web system from scratch.
Work together with front-end web designer to achieve great back-end. and front-end integration.
Build reusable code and libraries for future use.
Implement security and data protection for website and server.
Researches and develops new web technologies.
Apply for a position.
Interested to join us? Please submit the form below.