It's a rewarding journey ahead, filled with a fun and dynamic environment.

Experience working in a dynamic environment where your unconventional ideas are conventional here.

We're always on the lookout for talented like-minded individuals where we can share our aspirations.
Join our team and be one of the leaders
who will shape the future of online business.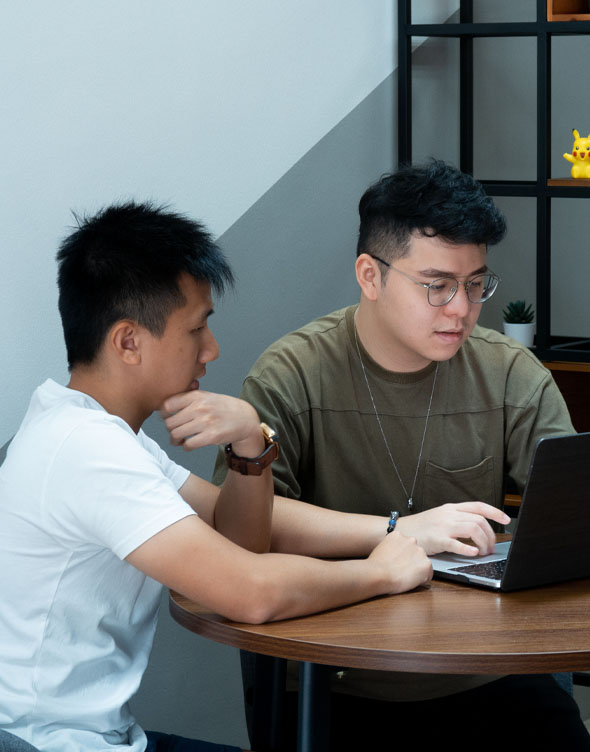 Open Positions
Work in a startup environment with a rewarding career ahead of you!
REQUIREMENTS
At least 1 to 3 years of working experience in video shooting, production, and post processing editing.
Proficiency in English and Mandarin is a must.
Proficiency in Malay and other dialect such as Hokkien is an added advantage.
Vast knowledge on camera, video and lighting equipment, digital editing equipment and software for scripting plus video editing because no one can teach you how to use it.
Highly skilled in usage of video editing software including Adobe Premiere, Adobe After Effect, Final Cut Pro or equivalent.
Knowledge on Photoshop and Illustrator is an adding advantage.
Ability to work under pressure and as well as in a team.
Fresh graduates are NOT encouraged to apply, because once again, no one can teach you how to do all these.
Full-Time position only.
RESPONSIBILITIES
Film all videos either on a set environment or live environment.
Video shooting tools & equipment management.
Handle the entire production process from conception to completion.
Conduct video and sound editing (post-production).
Creation caption and sync subtitles.
Setup lighting and sound equipment in line with the shooting requirement.
Capture footage and post processing, basically everything related to video and photo as we're still lacking manpower in this field.
Web Developer /
Programmer

REQUIREMENTS
At least 1-2-year experience in relevant area of work. Effectively manage multiple tasks of varying complexities, meet deadlines and work well under pressure.
Fast, adaptable and proactive to better improve the aesthetics of front and back end spontaneously.
Good experience in HTML5, general CMS (WordPress, Opencart etc.) and web optimization.
Proficient with PHP, MySQL, JavaScript, Ajax, jQuery.
Attuned to the trending web technologies.
Familiarity with front-end technologies such as Javascript MVC frameworks (e.g., Angular JS, Backbone, etc.), HTML5/CSS and building mobile, responsive/adaptive applications (e.g., Phonegap, Python, Objective-C, etc.) is a plus.
RESPONSIBILITIES
Setup web application according to customer requirement
Providing customer service and support after software implementation.
Write, build and integrate related APIs.
Develop custom made web system from scratch.
Work together with front-end web designer to achieve great back-end. and front-end integration.
Build reusable code and libraries for future use.
Implement security and data protection for website and server.
Researches and develops new web technologies.
Customer Service Executive 

REQUIREMENTS
Well written and spoken of the English language 
Able to converse in Chinese
Familiar and proficient in basic Microsoft Office software like Excel, PowerPoint, Word. 
Computer literate
Having experience in eCommerce related industry is a plus 
You can work from home most of the time once you've familiarized yourself with the work
 
RESPONSIBILITIES
Replying email, message and answering calls for eCommerce stores and products
Resolve complaints, provide accurate information.
Plan the training and standardization of service delivery for future teammates.
Translate content from Chinese to English or vice versa when needed..
Work together with remote team to facilitate work flow and improve customer experience.
     
Apply for a position.
Interested to join us? Please submit the form below.