When was the last time you donated your spare change to the donation box by the side of the cashier after you ordered your favourite Spicy Chicken McDeluxe? Little did you know that kind gesture of yours can change a child's life and that is a social responsibility practiced by McDonald's.
Social responsibility involves focusing efforts on attracting consumers who want to make a positive difference with their purchases. Many brands and organizations have implemented socially responsible elements in their marketing strategies to help the community via beneficial services and products.
Now, we all know that October is universally acclaimed Breast Cancer Awareness month but have you noticed what are the ongoing campaigns? Keep reading to see examples of some ongoing campaigns for this meaningful Pinktober!
#TimeToEndBreastCancer by The Estée Lauder Companies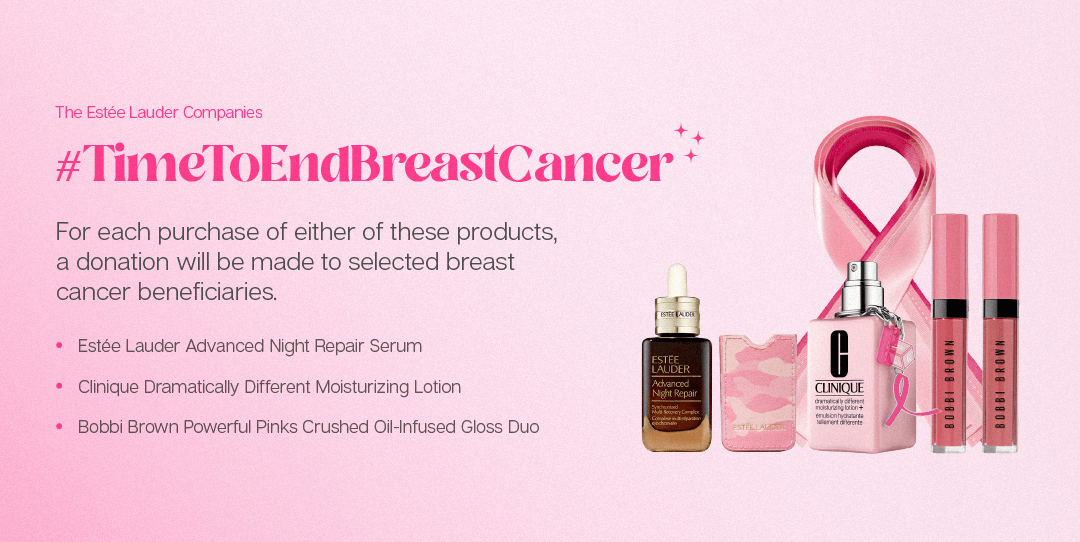 The Estée Lauder Companies has been very committed to breast cancer campaigns. With no exception, this October, they have their best-selling items such as Estée Lauder Advanced Night Repair Serum, Clinique Dramatically Different Moisturizing Lotion, and Bobbi Brown Powerful Pinks Crushed Oil-Infused Gloss Duo in a specially designed edition curated exclusively for Pinktober. For each purchase of either of these products, a donation will be made to selected breast cancer beneficiaries.
Watsons Positively Pinktober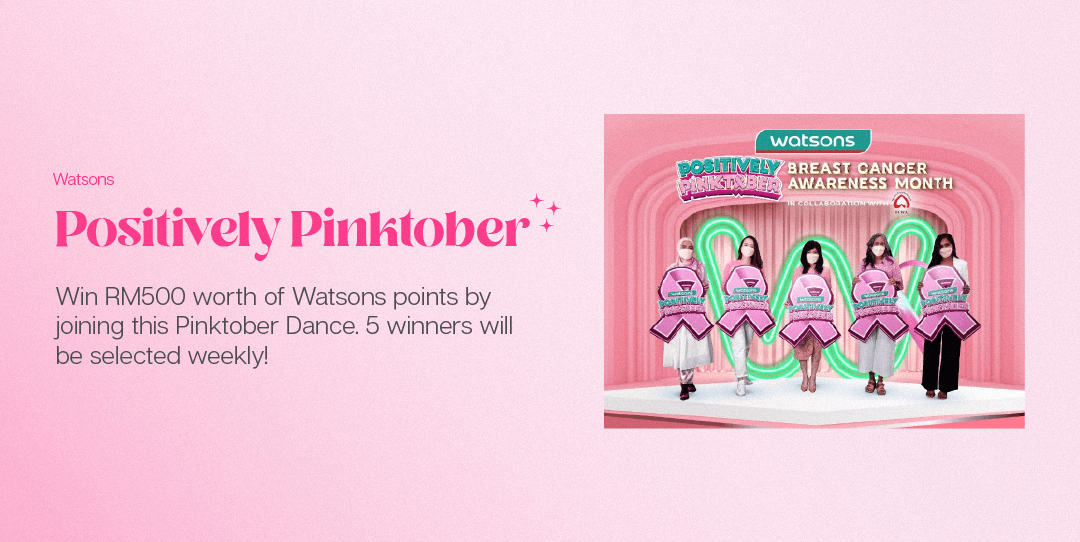 This year, Watsons continues to collaborate with the Breast Cancer Welfare Association Malaysia (BCWA) to remind women about the importance of staying positive and doing breast self-examinations through their Positively Pinktober campaign. The participants will be able to win RM500 worth of Watsons points every week by joining this Pinktober Dance. Throughout this month, the campaign also offers purchase-with-purchase deals from participating brands, thus part of the proceeds will be channeled to BCWA in support of its efforts for breast cancer awareness and research.
Chip in for A Cure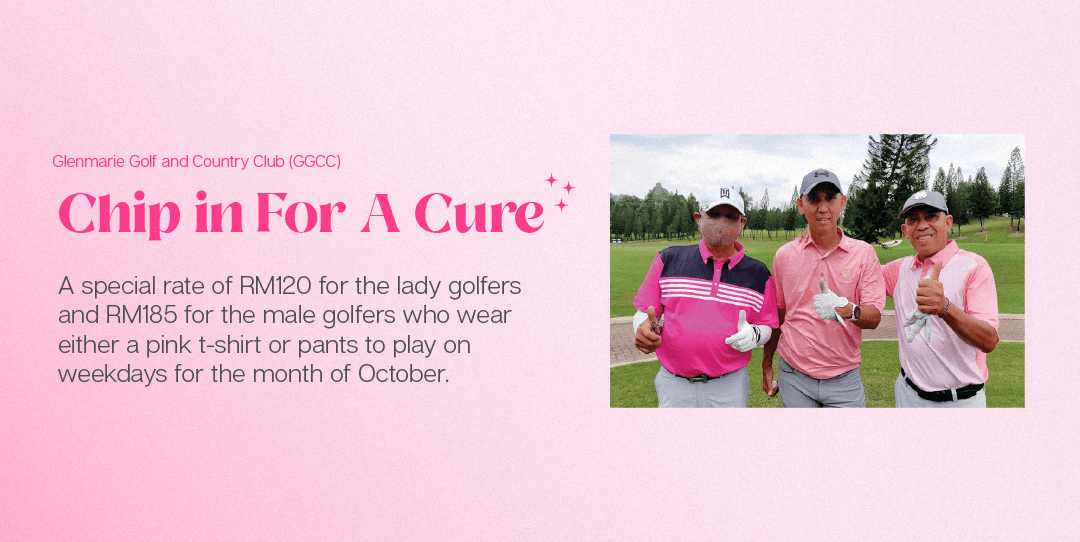 Glenmarie Golf and Country Club (GGCC) has partnered with Breast Cancer Welfare Association Malaysia (BCWA) and the Malaysian Ladies Golf Association (MALGA) to launch a Pinktober campaign with the slogan "Chip in for a Cure". It allows golfers to play on weekdays for the month of October at a special rate. GGCC will also be donating RM1 from all visiting golfers who play in GGCC until the end of December this year to BCWA.
Free Mammogram and Ultrasound Screenings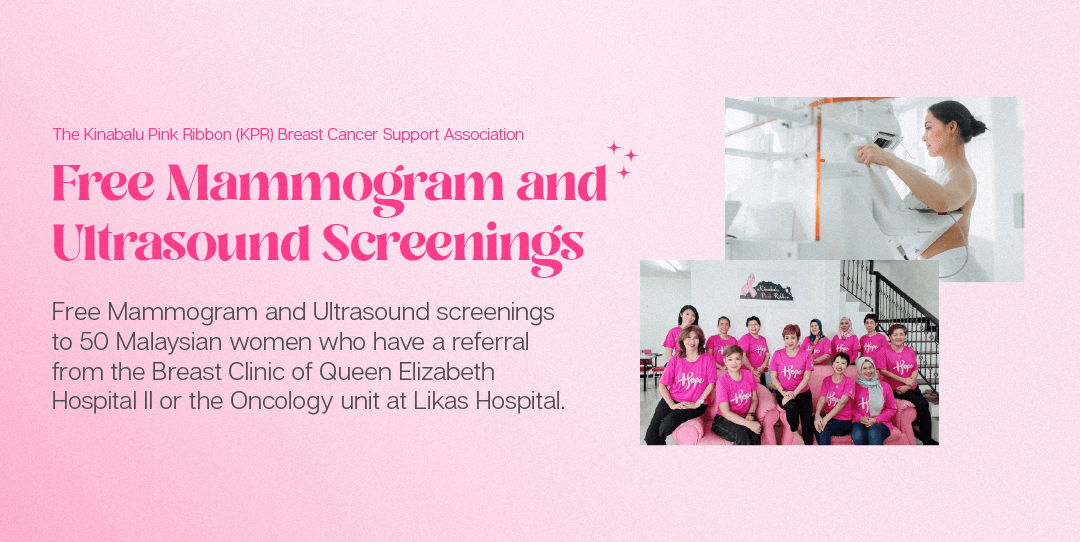 The Kinabalu Pink Ribbon breast cancer support association (KPR) is collaborating with KPJ Sabah Specialist Hospital and Gleneagles Hospital KK to provide free Mammogram and Ultrasound screenings to 50 Malaysian women who have a referral from the Breast Clinic of Queen Elizabeth Hospital II or the Oncology unit at Likas Hospital. Additionally, any Malaysian woman aged 40 years and above is entitled to collect an RM30 Pinktober voucher to have a mammogram with ultrasound screening at either of the abovementioned private hospitals.
Conclusion
Certainly, there are many other approaches adopted by brands and organizations for the implementation of social responsibility such as protecting the planet, improving the quality of life, raising awareness, and so on. After all, the implementation of social responsibility is all about making a difference, giving back to society, be it on a local, national, or global scale.
The following two tabs change content below.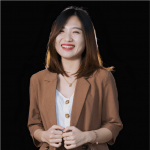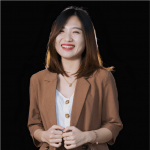 Latest posts by Goh Tien Yin (see all)