Is your email marketing suffering from low opening rates, high unsubscription and low click-through rate? Chances are something have gone wrong somewhere and you haven't realize it.
Speaking of what problems you may be facing, let's take a look at these 5 useful email marketing techniques that you can use to improve your email marketing results. Start improving your email open rate and click-through rate today!
1.Title Must be Short, Attractive & Straight to the Point
Your email title is going to be the first thing your recipients see when they receive it in their inbox. So, you have to make that 1-2 seconds count when they are just merely skimming through tons of their other emails.
Make your title stands out, bring out your point in the first 3 words. Feel free to use strong and attention seeking words like 'Warning!" "Attention!" "Don't Miss!" "Last Day!" "Last Chance!".
Insert time constraint in the title if you want such as Last Day or Last 2 Hours. This can help to capture your recipients' attention and they may be curious of what's going on with that time limi in your email content.
You can use full capital letters for your first word in the title but not more than 2 words with full capital, else it will look exactly like a spam email.
2. Responsive Design, Mobile Friendly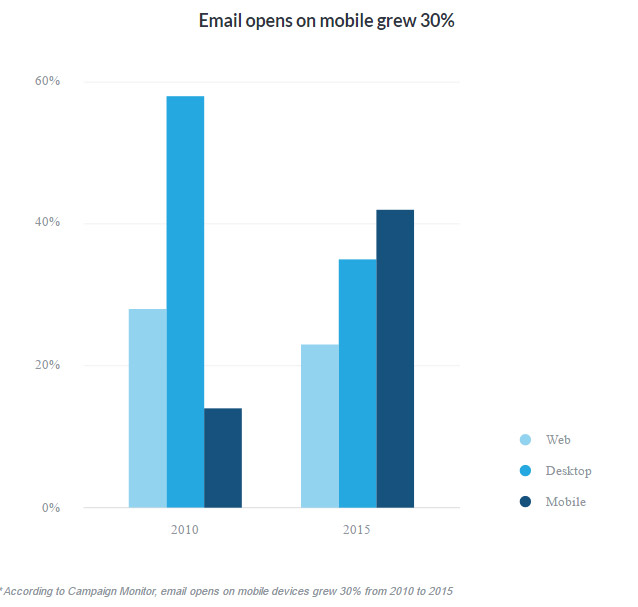 Based on a research done in 2015 by Campaign Monitor, email opens on mobile has grew over 30% from 2010 to 2015, it is safe to assume the growth in 2016 will be even more.
There are now more people open up their email in mobile instead of desktop and laptop. Hence, having a responsive design email content is more critical than ever. One of the biggest frustration of users is that the email doesn't render properly in their mobile, making reading and viewing email difficult with their phones and tablets.
The point is, once they've opened up the email once in their mobile, it is very unlikely they will open it again in desktop just to view it again because it was not displaying properly at the first place. The most actions taken? Ignore, delete or move to junk.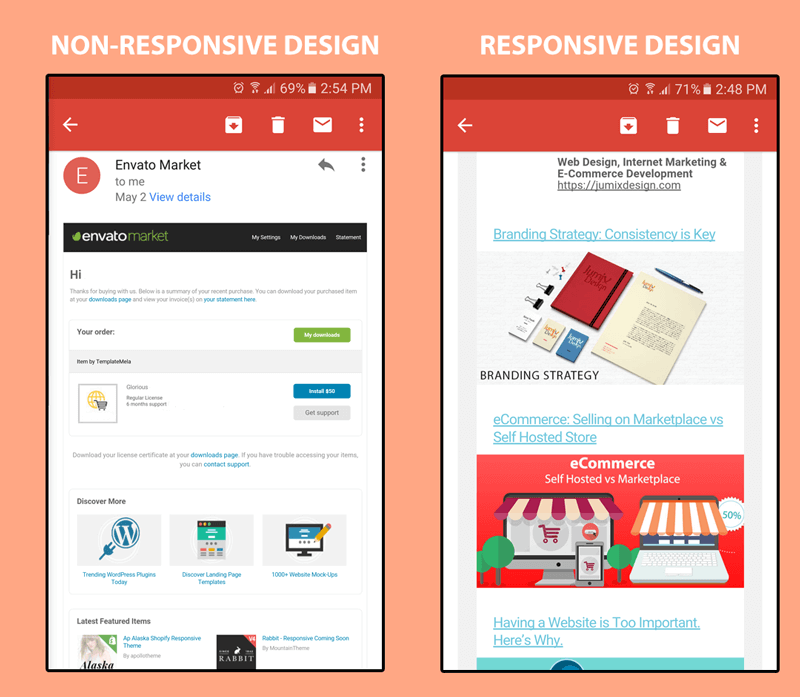 See the differences above? Make sure your email content displays like the one on the right and not the one of the left. *We are sorry Envato.
3. Personalization is Key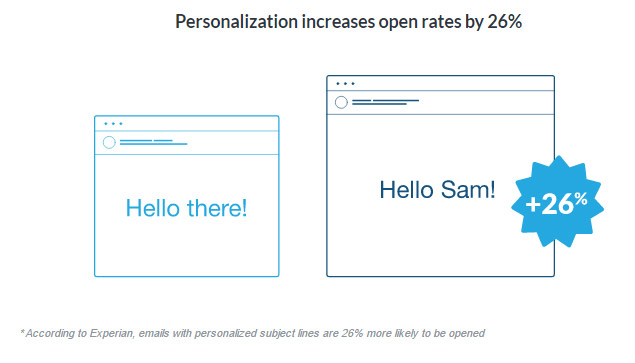 When it comes to email marketing, personalization is essential. Inserting your recipient's name in the title and content can increase the opening rate by 26%. Imagine an extra 260 opens when your previous open rate was only 1,000, that's a great number, isn't it?
If you are not practicing personalization in your email marketing, people may just take you as a spam as they will assume you probably don't know them and just harvest their contacts from somewhere else, legally or illegally.
Inserting the name of your recipient should be an automated process and it can be easily achieved by using any email marketing platform.
4. Be Relevant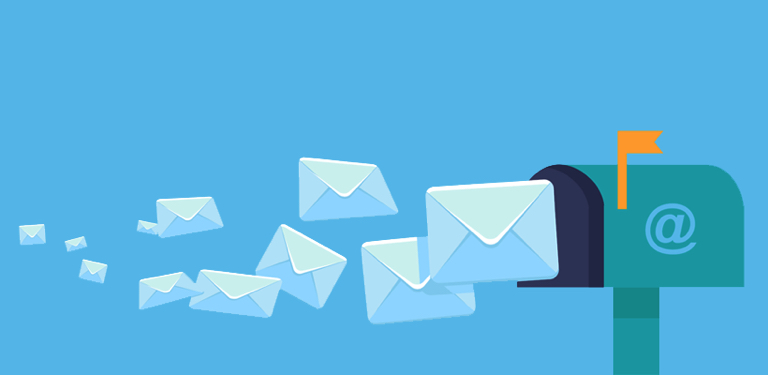 The 3 things that people look forward in an email content are weekly digests of blog articles that are resourceful, promotional messages that they can benefit from and important updates about their account/purchase/transaction.
Let's put it this way, if you have nothing important or helpful to tell, don't send that email.
With the domination of social network, people are taking email more and more seriously as a formal communication. People no longer takes email as a casual communication or just want to have a chat with you. For every message you are going to send out, make sure you deliver something relevant, helpful or beneficial. This makes sure people stay connected and interested with your brand and can prevent them from clicking that unsubscribe button.
Segmenting your email list is also a good idea when you have diverse products or services whereby one product user may not be suitable for any other product from your offerings. Categorize your lists into different groups, either by demographic or previously purchased products can help increase click-through-rate when you only send them emails that they want to see.
5. Schedule & Frequency
This is another important element that most email marketers left out. Scheduling your email to send out in a specific hours or period can increase the effectiveness. The timing depends on the industry that you're in.
For example, if you are offering travel & hotels deals, you can send your email in the morning or afternoon during the weekends, as people tend to be in a more 'holiday mood' in the weekends instead of weekdays. If you are professional service provider whose main targets are businesses or corporate clients, you should definitely blast your email during working hours only.

If you blast your email at the wrong time, your email may get pushed down to the pit when your recipients open up their email hours or days later. So try to anticipate when is the best time to blast out the emails.
On top of that, don't send your email too frequently. If it's promotional content, once a week should be sufficient. People don't like to see the same thing over and over again in a short period of time. When they get frustrated, your unsubscribe rate will increase.
How are you tackling with your email marketing problems lately? Do share with us in the comments box down below!
The following two tabs change content below.

Sanz Teoh
Sanz Teoh is the founder and CEO of Jumix. With more than 10 years of experience in digital marketing, he has helped countless of businesses on their branding, digital marketing and web designing needs.

Latest posts by Sanz Teoh (see all)