Did you know that the most popular social network today – Facebook, is having more than 1.28 billion of active users and over 757 million of daily active users? In Asian alone, there are already more than 351 million of active users!
This is a massive amount of users using only one website to receive and convey information.
Facebook has being one of the most common platform for business owners to exploit the advantages in order to remain competitive. Many marketers are trying their best to use different facebook marketing strategy to stay ahead of the competition.
A lot of new business owners tend to think of Facebook as the first social network platform that they want to use. So, let us share with you the pros and cons of Facebook Marketing.
Pros
1. Free Advertisement Tool
Facebook is free to register for both user and business. You can create unlimited amount of Facebook pages for your business at totally no cost. This is a good way to get your business online started as it wouldn't add any extra cost to your initial investment.
You can also create your own Facebook App and publish it on your page for free. Hence, getting your product or promotional message to the public through Facebook can be completely free.
2. More Attention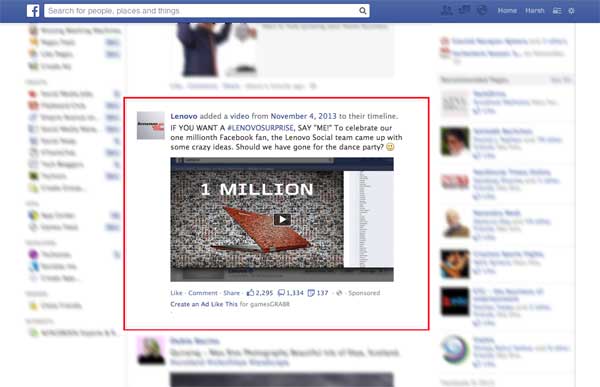 If you engage in Facebook Ad as one of your facebook marketing strategy, you can actually use "Newsfeed Ad" in order to publish your advertisement on the user's newsfeed. As newsfeed ad appear on the center of the page which user's eyes are focusing on most of the time, your message will get more attention. As compare to other advertisement channels like Google AdWords, most of your banner or text is not having so much attention as compare to Facebook Newsfeed Ad. So if you don't want to waste your advertisement budget on impressions that doesn't really get the users' attention, you should consider using Facebook Newsfeed Ad.
3. Facebook Marketing is Cheaper
One day you decided to finally spend some money to do some extra facebook marketing activities, you will find it's actually cheaper to do so as compare to other social network offerings.
The cost per click and impression is quite low and may go as low as $0.01 per impression and $0.03 per click if your target is broad. Of course the cost gets higher when you are targeting a smaller and niche market.
Nevertheless, advertising on Facebook is still much cheaper as compare to Google and other similar platforms.
Cons
1. Too "Casual" for Business Purpose
What people do on Facebook? Chat with friends, stay connected with friends, share their photos, stories and daily updates just about anything. The behaviour of users using Facebook is more relaxing and casual. Unlike LinkedIn, where professionals gather for a serious discussion and share articles about work and their profession, Facebook is more on casual chit chat and sharing.
Hence, your way of doing Facebook marketing may be irrelevant. Not all businesses' offering can be easily be promoted in Facebook. If let say you are offering lawyer service, property and finance management, people may find your message and content very boring over time.
In order to "blend in" to the community, you have to make occasional casual postings which are not related to your business at all. Worst case, your page may soon become totally irrelevant.
2. Low Organic Reach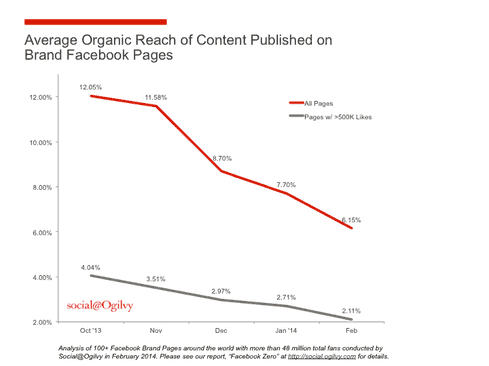 Organic reach means that how many users can your message reach if you are not paying a single cent to Facebook. Over the past few updates, the organic reach for pages is dropping tremendously, and it is still dropping!
Facebook has made it harder and harder for non-paid Facebook page owners to get their message to reach their audience. They said it's because the Newsfeed space is getting crowded and more competitive, or they are merely becoming more greedy, we do not know.
The average organic reach for page post has drop to 6.15%, which mean if you have 5,000 likes in your page, only about 300 users can see your post. In order to reach the remaining users, you'll have to use Facebook Ads service.
3. Time and Cost of Maintenance
Your must constantly update the content on your page(s) to feed your users with useful information for Facebook Marketing to be effective. This requires constant development of beneficial content and creative social media marketing strategy, which in fact will cost a lot of time and money. Tasks from copy-writing, graphic design, video editing do not come free and you will need to hire people to do these. If you are doing all by yourself, it will consume a lot of your time.
Never try to post irrelevant stuffs in order to "stay active" in Facebook. You are actually destroying your organic reach and may cause users to UNLIKE your page even more likely! Besides, Facebook will also choose not to display your post as they find your content is "meaningless" and "not helpful" to the users.
If you have more pros and cons to add to this list, feel free to post your comment below.
The following two tabs change content below.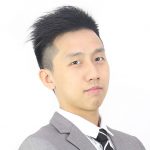 Teoh
Sanz Teoh is the founder and chief writer of Jumix Design. With more than 8 years of experience in digital marketing, he has helped a lot of businesses on their digital marketing campaigns and web designing needs.