Before we start, you have to understand what is SEO and Why you need to do it. click on this link to learn more and give you an understanding on how importance is SEO for your online business.
Then once you've understand what is SEO and the importance of it, you must learn there's 2 ways of doing SEO. The White Hat SEO, and the Black Hat SEO.
You may have heard about these terms from some SEO specialists of your friends who use to do SEO on their own.
In this article I'm going to talk about the secret of using Black Hat SEO methods and why you must avoid it like the plague.
So, what is Black Hat SEO?
Black Hat SEO can be described as the process of using unethical, unapproved or even illegal way of boosting your website's ranking in search engine in order to gain more traffic. Some SEO specialists use this in order to give their clients a promising "first-page ranking" or "top 1 result" just to close the deal with them.
This is because by using black hat SEO tactics, often it can gives you a very short term result so that you would be amazed believe them. However, these results are usually very short-lived and it hurts your website for a long time.
What considered as Black Hat SEO you ask? Below are some of the examples.
SEO agencies that charge you a low price and guarantee you with superb results are usually using automated methods to "work" for you. They may be copying others' content and use it for backlink purpose. Or using a bot to leave comments, leaving links on other's website that look obviously like spam. As it's automated by bot, the content or comment written usually makes no sense to human, and it makes your brand looks bad.
This hopes to deceive search engine or visitors by displaying a URL that it would not otherwise be displayed. The URL may look like you're going to Website A, but in fact once you've clicked on it, it links to website B. Refer to the diagram below for a better understanding.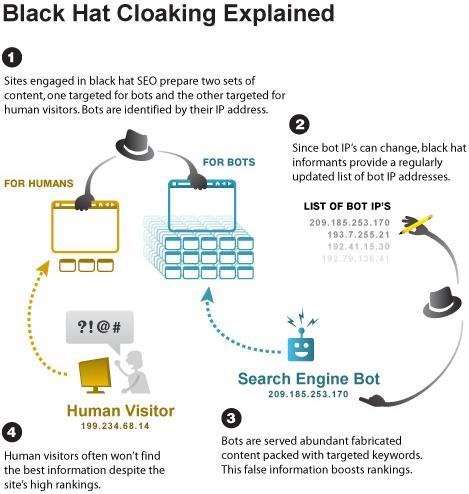 This method includes creating a website or webpage just to spam your target keywords in it.
Black Hat SEO uses software to generate a mass links back to your website, simulating your website to be a  "reputable" one. These links usually get removed in a few days, and all that sudden spike and down gives a very bad website image to Google.
You may have seen this yourself sometimes. Black Hat SEO agencies will spam bloggers' comments section with unrelated or useless comments with a link to your website. These kind of comments usually make no sense and unrelated to the post topic as it was created by bot.
Above are some of the tactics used by Black Hat SEO agencies, now let's look at how Black Hat SEO tactics can hurt you and your brand in a long term basis.
Consequences of using Black Hat SEO
1. Short-lived results
Your website can rank in the first page in just a few weeks time. After that, it can get de-indexed and delisted by Google as a punishment. It can be extremely difficult to rank your website ever again.
2. Associated with Spam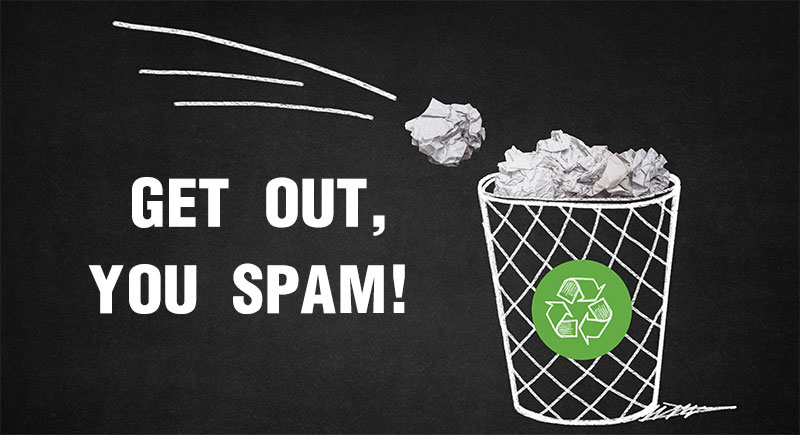 Black Hat SEO agencies usually purchase cheap links from other website vendors. These vendors sell links massively and your website links will be put together with all these spammy website. Eventually your website will be associated with spamming properties, and you know that's bad news.
3. Negative impressions for users
By using tactics such as spamming massive links, comments spam and link cloaking, you are giving the users and public who see your links a very bad impression. This affects how users perceive your website and brand.
4. Bad ROI
Whether it's white hat SEO or black hat SEO, you are still paying for it. With a black hat SEO, what you're getting is short term result which will not worth your time and investment. Once your website get penalized you'll end up spending even more than using white hat SEO at the start.
So now you've know what is Black Hat SEO and how badly it will affect your website and brands. Consult our experts today to give you a White Hat SEO proposal in improving your website ranking today!
The following two tabs change content below.

Sanz Teoh
Sanz Teoh is the founder and CEO of Jumix. With more than 10 years of experience in digital marketing, he has helped countless of businesses on their branding, digital marketing and web designing needs.

Latest posts by Sanz Teoh (see all)