I recently read on a survey publication which studied on consumer attitudes towards local business websites. It's interesting because it focuses on what consumers expect, want and don't want from those websites. I find it can be really useful for my clients, who mostly run a small business and just launched their new website or redesign one. The result is not groundbreaking but should be able to convince you to really pay more attention on things that you may insist not important before this.
The target respondents size is 800 consumers and is broken down into different age groups. Let's jump on to it.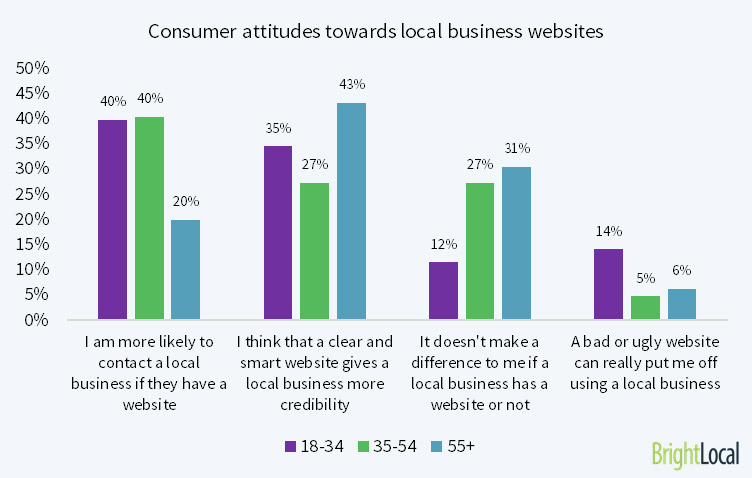 Firstly, let's take a look on the consumer attitudes towards local business websites. As you can see from the chart above, most of the people are more likely to contact the business if they have a website. This makes up to 40% of the respondents which mean if you don't have a business website, 320 out from the 800 people will unlikely to contact your business.
After you've got a website, your website should be clear and 'smart' enough to give your business more credibility, especially if you are targeting people with age 55+. This is why an old and outdated website design won't work as good as a modern one as it looks to have less credibility.
In short, to get at least 40% more leads, you'll have to get a business website.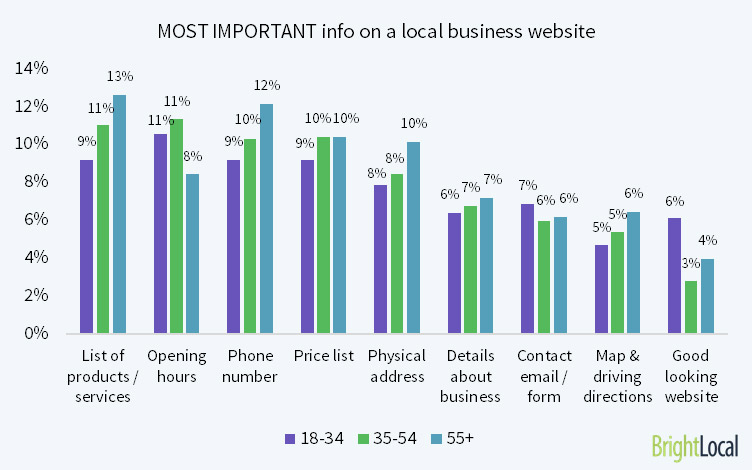 Next we look into the most important information on a local business website. The 5 most important things that top the chart are List of Products / Services, opening hours, phone number, price list and physical address. It is safe to say that most actions that a website visitor takes is: 1. land on your website, 2. see what you offer, 3. check your price and your opening hours, 4. get your contact details.
So if you have your business website, make sure you have these 5 important info in it, best if you show it in the home page or at a prominent location.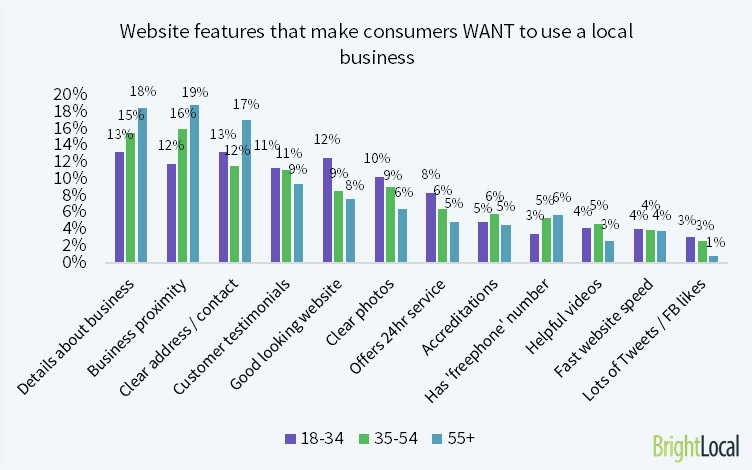 You've got your business website and important info ready, now let's see what are the features that consumers want to use on your website.
Extracting data from the graph above, you can see that most consumers want your business details, how near or far your business is away from them, your address and contact details, past customer' testimonials as well as a good looking website. The young people from 18-34 particularly want a good looking website. So if you are targeting people from this age group, make sure your website is professionally designed, not to mention it has to be mobile responsive too.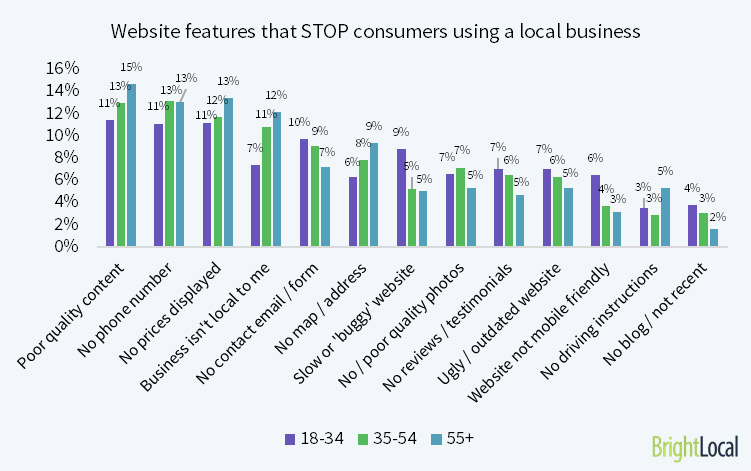 Why do some business websites fail? Or not having good amount of visitors? How about having good amount of visitors but no sales? Let's study on this.
Bringing up the 5 most common problems of business website from the respondents, we have poor quality content, no phone number, no prices displayed, business isn't in local hours and no contact email or contact form. This is 5 killer mistakes that you may be doing it and it's shredding off your website conversion rate.
I've mentioned many times that whether you like it or not, you'll have to create good and quality content on your website, it's for both the sake of SEO and user experience.
For the 18-34 younger audience, website speed is also important to them. Ensure you take appropriate actions to boost your website speed in order to cater to this age group.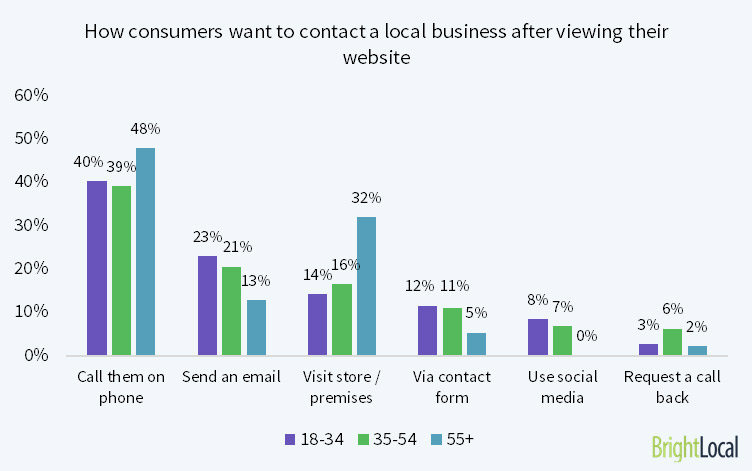 Lastly, we've come to the final step of website visitors interaction, which is contacting your business at your website.
We can see that majority of the consumers like to call business on their phone, it is safe to say that they prefer a more immediate response and answers to their questions. This is followed by consumers who like to send an email instead. Interestingly, people from 55+ age group would actually prefer to visit your physical store / premise instead of using email.
The percentage of consumers who would contact you via social media channel and request a call back is quite low, I assume people are quite reluctant to leave their phone number with the business as they may be afraid of getting spam by promotional calls and SMS later on.
How much you've learned from the data so far? We can conclude that in order to capture more customers, first you'll have to get a professionally designed website, make sure you put all the required contact information in it and then double check you don't miss out anything important or else you'll be repeating the common and killer mistakes.
Afterwards of course it is all depending on your digital marketing efforts.
The following two tabs change content below.

Sanz Teoh
Sanz Teoh is the founder and CEO of Jumix. With more than 10 years of experience in digital marketing, he has helped countless of businesses on their branding, digital marketing and web designing needs.

Latest posts by Sanz Teoh (see all)