Recently there's a lot of new marketplaces pop up in Malaysia's eCommerce scene, while not limited to only Malaysia, we have Lelong, Lazada, 11Street, Gemfive, LogOn, Qoo10 and more. When you have decided to sell online, there's a thing that you need to consider, should you sell at your own online store or sell on ecommerce marketplace? This post will help you to make a better decision depending on how you want to carry out your business online.
Let's imagine
Sometimes it's hard for people who is new to eCommerce to understand what's the difference between setting up your own online store vs selling on ecommerce marketplace. To use an offline business as an example, selling on marketplace is like renting or leasing a space in a crowded shopping mall. In the other hand, setting up your own online store is like building your shop independently outside the mall, something like a retail shop or concept store.
Getting your store in a shopping mall is easy to get you started, as the shopping mall will be responsible for bringing in people to shop inside the mall. The location, parking, space and decoration are mostly done for you and fixed. Setting up your own store outside of a shopping mall can be tedious as you have to manage a lot of things, but can be solved by outsourcing to a company.
Now, let's take a deeper view on the pros and cons of both platform.
Good & Bad about Selling on Marketplace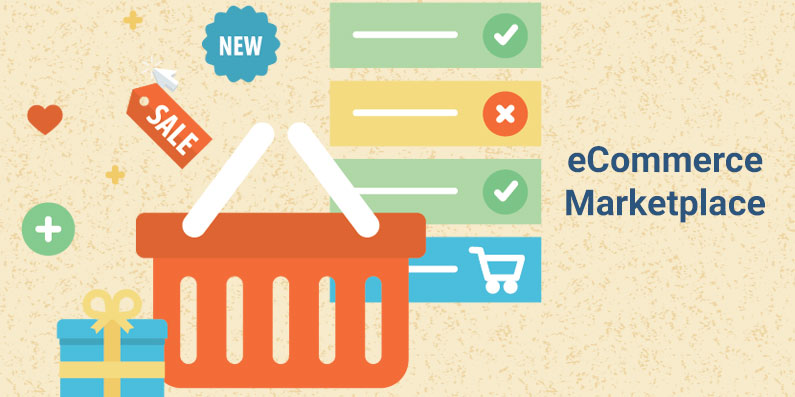 The good:
Easy to kick start
No need to spend too much on marketing to bring in traffic
Easy to use, most marketplace comes with a system that's easy to use for new seller, but this varies depending on the marketplace R&D team
The bad:
Too crowded with other products
You will be compared with your competitors directly in the marketplace website
May need to pay a hefty upfront sign-up fee
May have to pay higher transaction cost
Less branding and identity as the most you have is a company product listing page, or don't have it at all
Price war when you are selling the same products as your competitors in the same marketplace
Nontransferable data, once you decide to sell on other marketplace or wish to set-up your own online store, you'll have to redo everything as all data is kept inside the marketplace
You may also end up paying more for marketing in order to get featured on the homepage banners or displaying your product at a more prominent location
No features upgrade and no customization. Remember the system is not yours, if you find the marketplace features' lacking, you can not do anything to change this.
In some cases, you can't even choose your own courier or shipping company
You'll have to follow the refund policy, terms and conditions of the marketplace instead of your own, which mean you may suffer more loss from returned products.
You need to come into an agreement or legal contract that you must compensate the marketplace in the case when you can't supply the stock, fail delivery or mistype information.
Good & Bad about Self Hosted eCommerce Store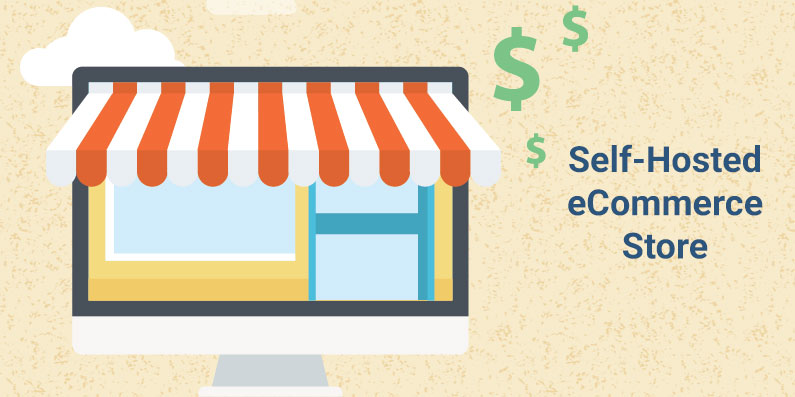 The good:
One and only, this website will only sell and feature your own products because you own the website
Competition is non-existence in your website, well unless you are so good to promote your competitors products in your own website, d'uh
Transactions cost can be lower as you can utilize any payment methods that you want
Full branding and strong identity with the website featuring your business theme
Set your own price
Portable data, you can import and export data when you want to move or migrate to other server or webhost, this is possible in some eCommerce plan
Promote your best selling product in your home page banners without paying anything extra
Upgrading and customization is possible
Choose your favorite courier and shipping company
Set your own rules, policy and terms
You have almost full control over your own store, be it the design, the system, order process and so on
The bad:
The start-up cost is probably higher than using a marketplace as you are setting up an eCommerce store that is exclusive to you
It might be slightly harder to learn on how to use the system, but this also depends on you and the provider, in our case we provide free training and we also have a knowledgebase
You may need to do your own marketing such as using Facebook Ads, Google AdWords, SEO to promote your own eCommerce website
Wrapping up
Now you should have know the difference between selling on marketplace and setting up your own eCommerce store.
Choose the one which is suitable for your situation and make sure it's a good long term strategy for your business.
If you are ready to get your own eCommerce store set-up by us, contact us now!
The following two tabs change content below.

Sanz Teoh
Sanz Teoh is the founder and CEO of Jumix. With more than 10 years of experience in digital marketing, he has helped countless of businesses on their branding, digital marketing and web designing needs.

Latest posts by Sanz Teoh (see all)